Last week, we had the opportunity to meet Briana Green better known as Hoops Green of the Harlem Globetrotters when she made a stop at the Children's Hospital of New Orleans to visit the young patients working on their physical therapy sessions. This was not Briana's first visit to NOLA but it was her first time in town during Mardi Gras. She got a chance to try crawfish and was looking forward to trying King Cake.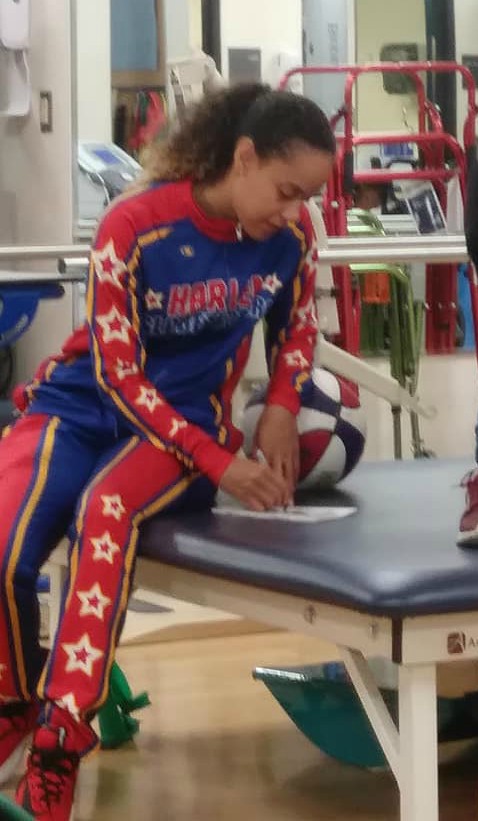 Briana Green started playing basketball at the age of 4 or 5 and she was 100% sure playing basketball was what she wanted to do when she grew up. Her inspiration and role model was her older brother, who has now become her #1 Fan. "He is just somebody I look up to. He is really positive. Just a good role model." Briana said.

When Briana Green joined the Harlem Globetrotters in 2017, she became the 15th woman in the teams over 90 year history. Hoops Green is best known in the team for her ball handling, dribbling and her jump shot. Hoops played professional basketball before becoming a Harlem Globetrotter. "The biggest challenge was separating or flipping that switch from straight competitive mode to entertainment fun," she said.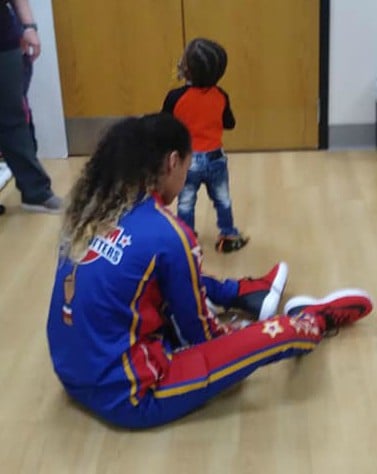 Hoops says being a Harlem Globetrotter comes easily since she has played basketball since she was a little girl and it comes natural to do what she loves. Learning to do all those tricks that we see Hoops perform during the game took a lot of practice and work like everything. "Practice, I know it sounds pretty basic, cliche but I mean you have to practice anything to be great at it. Work at it, invest time and hours and if you practice, you should be able to get it." she stated
"When I was 8 my aunt took me to my first Globetrotters game. Me and my brother in Lexington, Kentucky at Rupp Arena, first time I'd been to Rupp Arena, first time I'd ever been on the court, so then two years ago, I was at Rupp Arena on the court in a Globetrotter uniform. My aunt was there, my brother was there, my entire family was there. Full circle moment"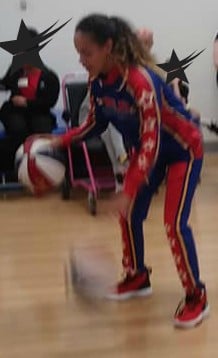 Hoops wants to encourage her young fans to go out there, "If it is something positive and their passionate about it why not. If it is a girl continue working try to be the best and break barriers. women are breaking barriers everyday". We asked her if the male team members treated her any different because she is a woman "They treat me like a bro, I mean we are all family, they respect me, respect what I do on and off the court.
Hoops Greens had a special message for Macaroni Kid Westbank and Macaroni Kid New Orleans readers: "Macaroni Kid Fans, Globetrotters will be here on March 8th, go get your tickets, listen to your parents, get that education and just have fun. I encourage you guys to get out, be active and follow me on all social media platforms: Youtube, instagram, TikTok".
Check out a video of Hoops doing some tricks for Macaroni Kid Westbank on our Instagram here. Don't forget to follow us!